Accuride chooses Pando to drive agility & visibility across their inbound fulfillment operations
Pando will help Accuride enable real-time tracking and visibility (RTTV) to improve inbound supply visibility, reduce delays, bring down freight costs and penalties & improve supplier collaboration.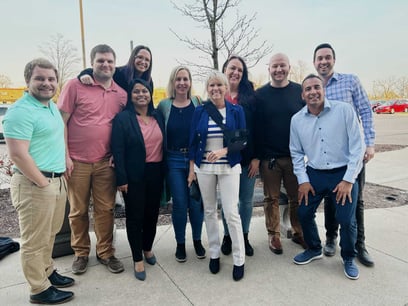 Image caption: The Pando team and the Accuride team in Livonia, Michigan
San Francisco, June 1st, 2023: Accuride Corporation, a leading provider of components for commercial vehicles in North America, has announced a partnership with Pando to enable 360-degree real-time tracking and visibility of component parts being imported into the USA from China, India and Europe. Through this partnership, Accuride will also automate their end-to-end fulfillment operations, which includes inbound ocean and drayage execution as well as freight bill audit functions.
The company is embarking on this digital initiative to bring increased agility and collaboration across their inbound supply chain. With a goal of driving a significant reduction in delivery lead time, reducing average cost per unit, and improving their team's productivity significantly, Accuride plans to remove friction from their inbound ocean import process while increasing visibility and collaboration with their freight forwarders. Some of the success metrics the team at Accuride expects to achieve through the adoption of Pando Fulfillment Cloud include:
Accessorial reduction of $200 USD per container for 3,000 inbound containers annually

Realization of end-to-end visibility of inbound fulfillment network

Optimization of ocean routes and achieving greater competitive pricing from carrier-base

Reduction of billing errors through freight audit while simultaneously increasing clarity to a documented trail of savings

Detailed financial visibility down to the accessorial line-item level to identify waste and achieve greater efficiencies

Documentable cost savings in all aspects of the international container transit process.
"We're excited to take this step forward to more agile and sustainable supply chain operations with Pando," said Matt Crowley, Director of Logistics at Accuride, "Pando's Fulfillment Cloud will help us to proactively manage our supply chain, scale with us as we grow, and ultimately ensure timely and accurate delivery of components to our customers improving customer experience, revenue growth and profitability."
"We are thrilled to partner with Accuride, a leading provider of commercial vehicle components," said John Zimmerman, Chief Revenue Officer of Pando's North America operations. "In today's highly volatile shipping market, bringing clarity to your inbound logistics is critical. Customers and production facilities rely on a clear and predictable timeline of their inbound inventory deliveries. The Pando platform will provide Accuride with the real-time tracking and visibility, predictive analytics, and automation tools they need to optimize their inbound supply chain operations, drive greater efficiency and profitability, and most importantly, customer satisfaction."
About Accuride
Accuride Corporation is a leading supplier of components for commercial vehicles, offering a range of products for the North American commercial vehicle industry. With over 100 years of experience, Accuride is known for providing innovative solutions to improve the performance and reliability of commercial vehicles. Their product line includes wheels, brake drums, hubs, and other components, designed to meet the demanding requirements of the commercial transportation industry. The company is committed to quality and customer satisfaction, and has a strong reputation for delivering superior products and services to its customers. www.accuridecorp.com
About Pando
Pando is a global leader in supply chain technology with its AI-powered, no-code Fulfillment Cloud platform. Pando's Fulfillment Cloud provides manufacturers, retailers, and 3PLs with a single pane of glass to streamline the end-to-end order-to-fulfillment process to improve service levels and reduce carbon footprint and costs. As a partner of choice for Fortune 500 enterprises globally, with a presence across APAC and the US, Pando is recognized by Technology Pioneer by the World Economic Forum (WEF), and as one of the fastest-growing technology companies by Deloitte.