Duroflex partners with Pando for customer-first, omnichannel fulfillment
Bengaluru, February 10th, 2023 -- Duroflex, India's fastest-growing mattress manufacturer, has partnered with Pando to digitize their supply chain and logistics operations to enable end-to-end visibility and optimization across their omnichannel distribution network.
Duroflex has doubled its growth in the past two years and is currently digitizing its business processes and transforming into a truly omnichannel and digital brand. The "phygital" company now sells mattresses, sleep accessories, and furniture through multiple channels, whether it's retail stores across 50+ cities or e-commerce websites, to both end-consumers and businesses.
"A large part of our pace of growth can be attributed to the digitization of processes that created a huge business impact. Digital transformation has to be a business-forward and not a technology-forward endeavor. With Pando powering our logistics operations, we aim to build agility across our supply chain, optimize our logistics costs and fulfill our customer needs better," said Vipin Rustagi, CIO Duroflex.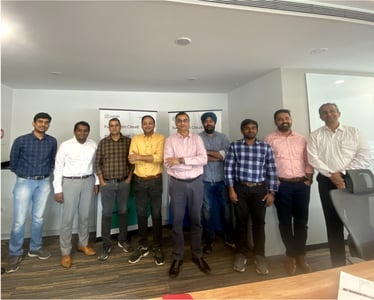 The Pando & Duroflex team at the logistics transformation kick-off
Duroflex is implementing Pando Fulfillment Cloud to:
Minimize per ton freight spend with 100% executable dynamic dispatch plans, optimized based on truck type/size, load selection of product mix, route calculation, and consignee clubbing opportunities.

Get insights on best rates & transporter performance benchmarks from the Pando network and procure vehicles using a digital-first negotiation process.

Digitize freight planning & management from first mile to last mile and ensure 100% contract compliance, tying back to automated invoice audit and reconciliation for payments.

And improve service levels & product availability for retail, B2B and D2C, using the ability to track and trace consignments & providing real-time ETA & exception alerts.
"Duroflex is known for its' consistent customer experience across all points of interactions, be it on the website/Apps or at their stores, thereby building a truly seamless omnichannel experience. As one of the fastest growing mattress manufacturers in India, their focus was always on being agile, and Pando is proud to be their digital-first supply chain partner for enabling Duroflex's customer-first growth ambitions," said Parvesh Ghai, Chief Revenue Officer APAC, PandoCorp.
About Duroflex
Duroflex, established in 1963, continues to ramp up the company's online presence and expand its offline footprint. Over the past couple of years, Duroflex opened over 50 new experience centers. It forayed into the furnishing space as well, launching a range of recliners, sofas, sofa beds, and bed linen, including an eco-friendly range. The brand widened its portfolio in the mattress space, offering products to address orthopedic needs and made with materials such as latex and pocket spring. For more information, visit https://www.duroflexworld.com/.
About Pando
Pando is a global leader in supply chain technology, building the world's quickest time-to-value Fulfillment Cloud platform. Pando's Fulfillment Cloud provides manufacturers, retailers, and 3PLs with a single pane of glass to streamline end-to-end purchase order fulfillment and customer order fulfillment to improve service levels, reduce carbon footprint, and bring down costs. As a partner of choice for Fortune 500 enterprises globally, with a presence across APAC, the Middle East, and the US, Pando is recognized as a Technology Pioneer by the World Economic Forum (WEF), and as one of the fastest growing technology companies by Deloitte.